The domain is the primary key to start an online business. When you have any good idea to show your presence online (creating a site), very first you will need a domain name no matter your site is big or small. A domain name is an address through which internet users visit your site. But the problem is where will you purchase it? There are a number of best domain name providers available in the market that register a domain name, but choosing the best one is a confusing task.
Go through the table of content for your convenience because includes numerous topic;
What is domain name registrar?
Domain name providers are the company that registers and manages a domain name. All the best domain providers are accredited by (ICANN) – stands for Internet Corporation for Assigned Names and Numbers or a national country code top-level domain (TLD) such as .com, .ca, .uk, etc.
A domain name makes easy to use the internet for everyone. Without it you need to enter multiple numbers of IP addresses to visit a site. But, by allowing websites to choose the addresses using easy words (for ex, www.wpglobalsupport.com) the domain name solve this problem.
See the below image to see how domain name works?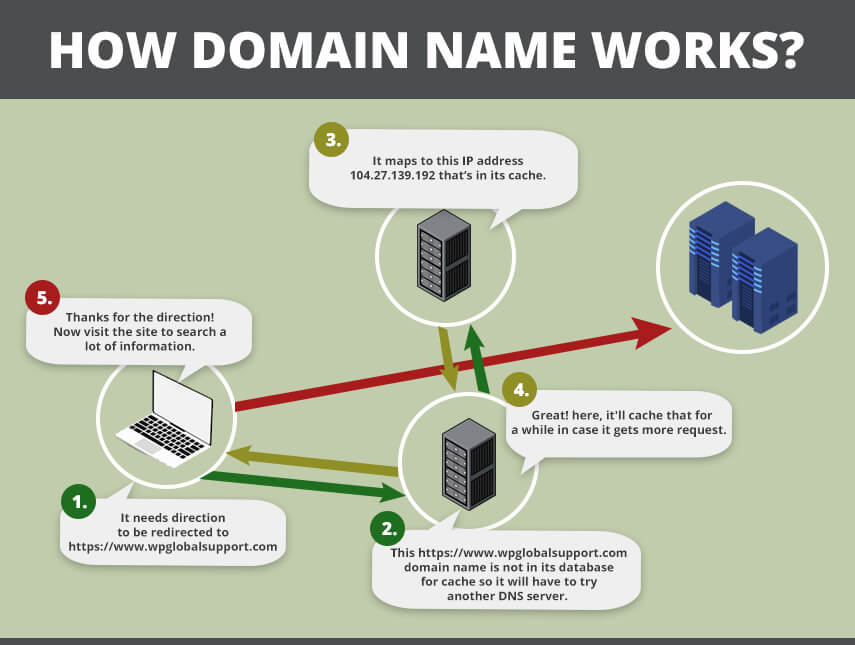 For more details follow the link what is domain name how it works?
Further on, we also have discussed above, an organization (ICANN) – Internet Corporation for Assigned Names and Numbers allows companies to apply for the license and makes it a domain provider to provide domain names worldwide.
Once companies are accredited, they compete with each other to sell domain names that make it easier for you to buy better, compatible and cheaper services and tools.
For example, suppose you wish to earn money from online business through which you intend to sell laptop computers at low costs. To start it you have to approach a domain name registrar to register a domain "cheaplaptop.com". If this has not already been registered, the domain provider can register it by charging its annual fee and give you the right to use it.
What domain registrars actually do?
Basically, all domain names records are saved in a centralized database which we called registry. For a domain name to be accredited, a domain registrar needs to add all its information into that centralized database.
Further on, ICANN allows a domain name registrar to make changes to the information of your domain name in the database. Also, it offers tools that help to makes such changes using the web browser.
Usually, domain registration is a competitive industry in which domains may be registered with a lot of top-level domains (TLDs), containing .net, .com, and .org.
There are a lot of top domain providers that make it quite simple to buy and renew your domain name, but it may be a bit difficult to know which one suits your budget, needs, and complete your site's goals. To make it easy for you we brought a guide through which you will know how to choose the right domain registrar. Before that we will explain you what to look in a domain provider, let's see;
What should you look in a domain registrar?
Note that all domain registrars not permitted to sell all domain extensions. Some sell only country-specific extensions such as .in, .au, .uk, .ly, etc. and some sell generic like .com, .edu, etc.
However, each provider provides various services domain name registration to attract customers. Some offer free add-ons with a domain name while some provide cheap domains as their promotional offer.
But you should look mentioned below criteria when it comes to choosing the right platform;
1. Registration period and pricing
The registration period of a domain name is minimum 1 year. But some companies register their domain name for minimum periods of 2 years. However, some best domain registrar may register your domain name upto 10 years at a time.
But we recommend, register your domain name for 1 year by checking its price. Because some registrar offers cheap price for first-year registration, but their renewal charge may be different and higher.
Along with this, check that they have not mentioned extra charges for domain transfer and other services.
2. Domain transfer
You know that domain names can be migrated from one domain registrar to another. So you need to check that a domain provider offering this service or not so that you can easily migrate your registrar in case you are not satisfied with your current provider.
But one thing you need to consider is, do not migrate your domain name in the first 60 days of registration as this initial period is decided by ICANN.
However, most providers offer this service free while some charge an extra fee. But check this domain transfer policy before purchasing a domain name.
3. Domain expiration policies
You also know that the domain names are registered for a specific period of time, thereafter, you need to renew it before its expiration date. If you forget to renew, it is expired by your provider, and then it can be registered to someone else.
It means anyone can take over your business if you don't renew it. Therefore it's better for you to check expiration policy, even if you are using the automatic renewal feature.
Basically, most registrars inform you before your domain expiration through mail or messages and mention you some times after expiration so that you can renew it.
However, many domains have expired due to their credit card expiration & some other reasons, and their registrar has not even mentioned the time to renew it. This is why it is necessary to choose the correct domain name registrar.
4. Add-on services
You should also check some other services offered by your domain provider. However, you may not need these services right now but it would be good to know they have them because you maybe need them in the future.
These add-on services domain parking, extended expiration protection, and domain privacy, and much more.
Following are the most important things you should consider during a domain name registrar selection;
As we have discussed above, domain registration is a competitive industry, therefore, each & every provider comes with distinct and attractive offers. Note that these offers may have some downsides that you will not be able to catch right away.
Hence, consider a few things when you choose a domain registrar;
1. Add-on pricing
Here you need to be more careful because when you buy a domain name, some registrars pre-check add-on services automatically. If you don't uncheck these services, they increase your bill significantly.
You have usually heard the name ".com", this extension costs a maximum of $14.99/year. If any provider is selling this domain name for more than this cost, that's not right for you, you need to check other registrars.
Finally, check only these add-on services options that you need, uncheck them you don't need.
2. Hidden fees
During the selection of registrars, you should check their hidden fees as some domain registrars provide first registration at a very cheap price, but their renewal fee is high. However, most beginners ignore this.
In addition, all the best provider allows you to easily transfer your domain name to another company, but they charge this service.
3. Bad user experience
Most domain registrars make it easy to use their site so that their customers can easily use it. But some of them do the opposite. But doing so may cause difficulties for you to change domain name settings.
You need to do this if you want to change your domain registrar, first of all, see their online review. This will let you know whether the provider has a good user experience or bad because a happy customer leaves online reviews.
Coming to the topic let's discuss which domain registrar suits your requirements.
Listed below some of the best domain registrars of 2019
1. Bigrock | 2. Namecheap | 3. Domain.com | 4. Bluehost | 5. GoDaddy | 6. HostGator | 7. DreamHost | 8. Name.com 9. BuyDomains | 10. InMotion Hosting | 11. Register.com | 12. A2 Hosting
1. Bigrock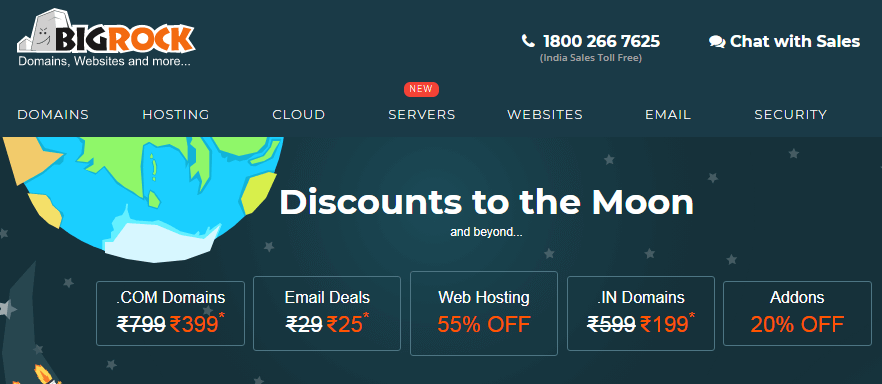 Bigrock is a #1 Indian based domain name and web hosting providers. This company is accredited by ICANN and a part of Endurance International Group. It is one of the cheapest registrar registers domain and web hosting at very lower prices – upto 80% less than in comparison to others.
Bigrock is the best choice for small business, individual, and professional. Apart from domain and web hosting, it provides many other services are as follow; business-class email hosting (with anti-virus and anti-spam feature), website builder tool, e-commerce solution, digital certificates, website security (SSL certificate, site lock scanning), etc.
Its headquarters are available in Directiplex, Old Nagardas Road Andheri (East) Mumbai, Maharastra 400069.
Key Features
Easy domain transfer
Provide all domain extension at cheap price
Shared hosting
Cloud hosting
VPS hosting
e-commerce and site builder
SSL certificates
SEO optimized
Outstanding support
And much more
Pricing
.com extension costs Rs 399/year, .net Rs 749/year, .co Rs 699/year, .in Rs 199*/year, .org Rs 799*/year, .co.in Rs 349/year, .biz 399*/year
2. Namecheap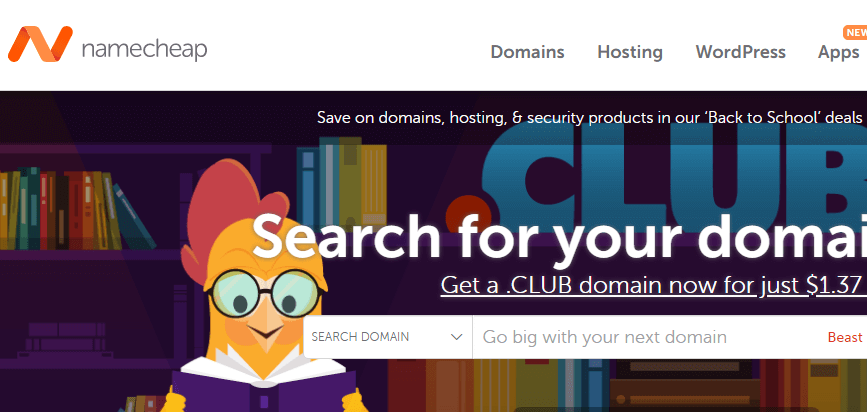 Namecheap is also one of the best and cheapest domain providers accredited by ICANN (Internet Corporation for Assigned Names and Numbers). This company is based on the Phoenix, AZ started in 2000 by Richard Kirkendall. Thereafter, within 3 years they have satisfied 3 million customers and managed over 7 million domains.
In 2010, it was named the "Best Domain Name Registrar" by Lifehacker and in 2012 it became the 'Most Popular Domain Provider'.
Further on, it has a tool to find the domain name you are looking for. If your preferred domain name is not available, it also gives you suggestions with some relevant domain.
This company provides some other top-level domains such as .me, .life, .co, .club, .online, and much more. It comes with add-on services such as free & premium DNS and domain privacy. The best thing is that when you purchase a domain name it provides you free domain privacy.
Apart from that, it comes with WHOIS protection, SSL encryption to keep secure your domains.
Key Features
Domains
Personal domain
Marketplace
Domain transfer
Whois lookup
Free & premium DNS
And much more
Hosting
WordPress hosting
Reseller hosting
VPS hosting
Shared hosting
Private email hosting
Dedicated servers
Website builder
Security
Whoisguard
VPN
2FA
Public DNS
SSL Certificates
Comodo
Domain validation
Organization validation
Single domain
Extended domain
Wildcard
Multi-domain
Reseller
SSL certificates
Reseller hosting
Support
24/7 outstanding support via live chat and email ticketing.
Pricing
Its normally costs is $10.69/yr, but for a limited time, you will have to pay only $8.88. It comes with free WHOISGuard for the first year, thereafter you will pay $2.88 for WHOISGuard.
3. Bluehost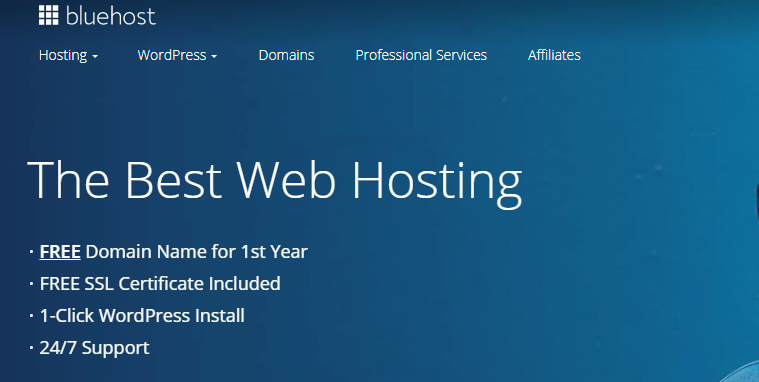 Being the best cheap domain provider, Bluehost offers the best domain name and hosting services to which it is known worldwide.
Bluehost is based out of Provo, UT started in 2003 by EIG (Endurance International Group) – largest hosting group at international level.
They had 525,000 customers by 2010 and they have hosted over 2 million websites.
Further, Bluehost is an official WordPress hosting partner. They offer domain name registration as a part of their web hosting service. They come with SSL certificate, domain name, shared, VPS, WordPress, dedicated, and reseller hosting, and web hosting to create a successful WordPress site.
The best thing is that when you buy it's any of hosting package it provides you a free domain name.
Apart from that, it comes a lot more features are as follows;
Key Features
A free domain name for the first year
Single-click WordPress install
Free SSL certificate
Shared, WordPress, VPS, and Reseller hosting
24/7 outstanding support via phone, email, and live chat.
Pricing
Its basically cost $2.75/month with a free domain name. But if you register more than one domain you have to pay $11.99/year for each domain.
Domain privacy protection costs $0.99/month. But finally, domain and privacy protection combine costs is $23.87.
4. DreamHost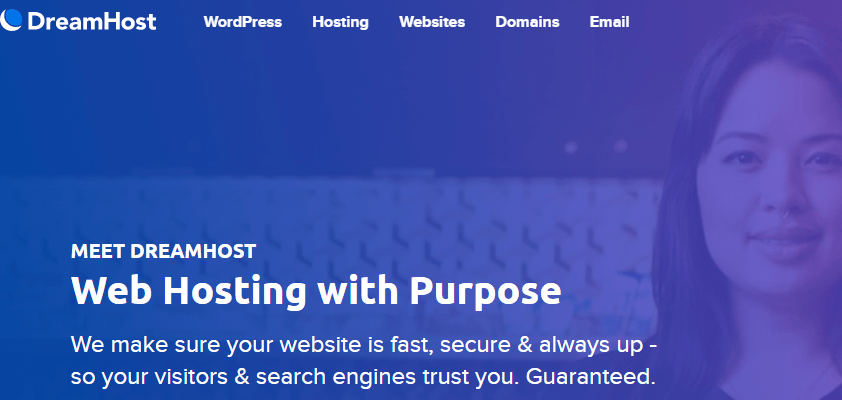 DreamHost is a Los Angeles based company that started in 1996 by Dallas Bethune, Michael Rodriguez, Sage Weil, and Josh Jones. It is best company has acquired 400,000 customers by 2016.
Along with being a domain hosting provider, it comes with more than 400 top-level domains and all domain management tools that a large registrar provides.
It has various hosting options such as WordPress, VPS, reseller, shared, and much more. The best news is it gives you free domain privacy included domain name by purchasing their shared hosting plan.
Apart from that, it has a lot of advanced features are as follows;
Key Features
Easy to use
Fast & reliable
Website builder
Dedicated hosting
Cloud hosting
Shared hosting
VPS hosting
WordPress hosting
100% uptime guarantee
24/7 outstanding support
Pricing
It costs $8.99/year which includes free private registration.
5. A2 Hosting
A2 Hosting was founded in 2001 by the CEO of the company Bryan Muthig. It was launched as a hobby whose basically provides the Shared Web Hosting services to a very few people. But as the company started to grow it also started to provide complete hosting services and now famous as a Domain registrar.
A2 hosting provides different hosting services like web hosting, WordPress hosting, VPS hosting, dedicated server hosting, and many more. The main aim of the company is to provide fast and easy support to customers. Customers satisfaction is its main priority.
Its data center is available in the given places:
USA – Michigan(IP address – 75.98.175.109)
USA – Arizona(IP address – 68.66.224.6)
Europe – Amsterdam(IP address – 68.66.248.31)
Asia – Singapore(IP address – 103.227.176.4)
Key Features
Developer friendly
Domain registration
Easy Domain transfers
SSL Certificates
SwiftServers Fast Hosting
Compare Hosting
Fast solution for hosting needs
Pricing
| | | |
| --- | --- | --- |
| Lite – $2.96/mon | Swift – $3.70/mon | Turbo – 7.03/mon |
| A perfect solution for a single site | Suitable for more than 2 sites | Perfect for unlimited websites |
| 5 Databases | Unlimited Databases | Unlimited Databases |
| cPanel Control Panel | Unlimited storage | cPanel Control Panel |
| Unlimited Storage | Free SSL & SSD | Unlimited Storage |
| Free SSL & SSD | cPanel Control Panel | Free SSL & SSD |
| Easy & fress Site Migration | Free & Easy Site Migration | Free & Easy Site Migration |
| Doesn't support turbo | Doesn't support turbo | Turbo (Up to 20X Faster) |
| Anytime money-back guarantee | 100% Money back guarantee | Anytime money-back guarantee |
| NA | NA | A2 Site Accelerator |
6. Domain.com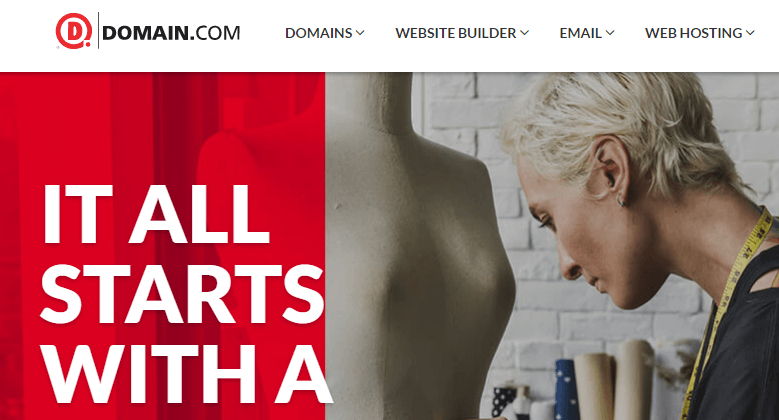 Domain.com is the best domain for startups launched in 2000 by Endurance International Group. It provides hosting options with useful tools at cheap price for a small as well as large business. Also, it offers all generic (TLDs) and country code (ccTLDs) top-level domains extension.
It has a domain search tool that allows you to search your domain name that the domain name you are looking for is available or not.
Apart from that, it comes with almost domain management tools that a top domain registrar should have like whois privacy protection, bulk registration, private registration, whois privacy protection, free whois, easy transfers, email account, easy DNS management, and some other additional services.
However, it specializes in offering domain names, Email, SSL certificates, web design, web hosting, VPS hosting, online marketing as well as WordPress hosting, shared hosting, and VPS hosting plans.
The best thing is that when choosing a hosting plan, it gives you at least one free domain with SSL certificate, unlimited disk space, marketing tools, and e-commerce solutions.
It also provides full support, in case you face any problem you can contact 24/7. Apart from that, it has a lot of advanced features are as follows;
Key features
Domain privacy
SSL certificate
Website builder
Professional web design
Whois lookup
Full support via live chat and email.
Frequently asked questions area.
All generic (TLDs) and country code (ccTLD) top-level domain.
Provide domain name with unlimited disk space, SSL certificate, marketing tools, e-commerce solution and much more.
Pricing
It costs $9.99/per year for a .com or .net domain, $8.99/year/domain for domain privacy protection, and $14.98 for a .com domain & WHOIS privacy protection.
7. GoDaddy
Godaddy is also another domain name provider that started in 1997 by Bob Parsons. Its headquarters are situated in Scottsdale, AZ. Its original name was Jomax Technologies but changed to GoDaddy Group INC.
The company has more than 17 million customers and managed over 73 million domain names.
Being one of the largest registrars, it provides a variety of top-level domains. They also offer you professional email powered by Microsoft, domain value approval, domain transfer, web security, web hosting, online marketing tools, and many more. You can also get a significant discount on your first registration.
Furthermore, it allows you to transfer your domain name or change its settings with its powerful domain management interface. They also provide outstanding support via phone, email, and live chat.
Key Features
Professional email
SSL security
Managed WordPress
VPS
Dedicated hosting
Domains
And much more
Pricing
It's price $0.99 for first domain registration, thereafter it costs $14.99/year. Some TLDs like .net, .com, .tech, and .co are available at slightly higher price.
WHOIS privacy protection for personal at $7.99/year/domain and for business $14.99/year/domain.
8. HostGator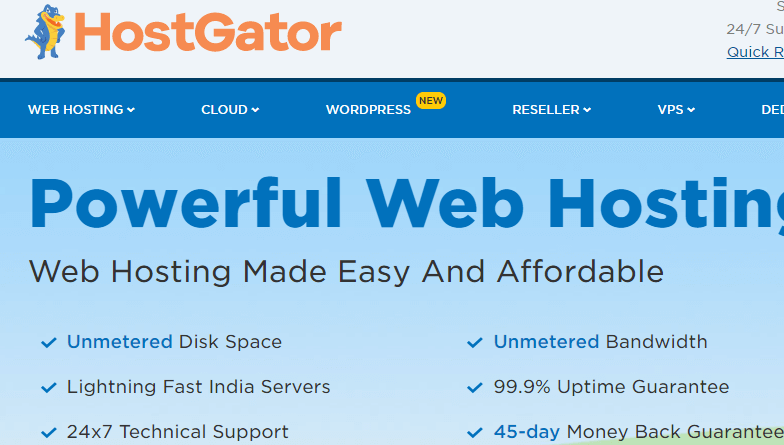 HostGator is started in 2002, but after that, it was taken by Endurance International Group in 2012, now its headquarters are situated in Houston, TX.
They had over 400,000 customers by 2013 and managed over 9 million domains. We can say that it is the one-stop-shop to offer domain names and shared web hosting.
Being the best domain and hosting provider, it has many features like DNS management tools, domain privacy, and various top-level domains. This top domain hosting company comes with a domain search tool through which you can search your preferred domain name.
Recently they have launched a drag & drop site builder called Gator. The best thing is you can get a domain name and web hosting with any of the site builder plans.
Apart from that, they offer you various hosting options include WordPress, reseller, application, Windows, web cloud, and dedicated.
They also offer outstanding customer support via email ticketing and live chat. It has numerous video tutorials so that you can solve an issue yourself in case of facing any problem.
The best thing is it gives a free domain name if you purchase Hatchling Cloud plan and gives you unlimited domain with Baby Cloud and Business Cloud plan. Similarly, you can get with web hosting, WordPress hosting or reseller hosting.
Key Features
Lightning-fast website
Single-click install script
Intuitive control panel
WordPress hosting
Joomla hosting
Drupal hosting
Magento hosting
Easy to use cPanel
Advanced programming & databases
Professional email hosting
Pricing
.com site costs $12.95/year. If you are already HostGator clients so you can .com domain for a year by paying only $2.99. WHOIS privacy protection costs $14.95/year.
9. Name.com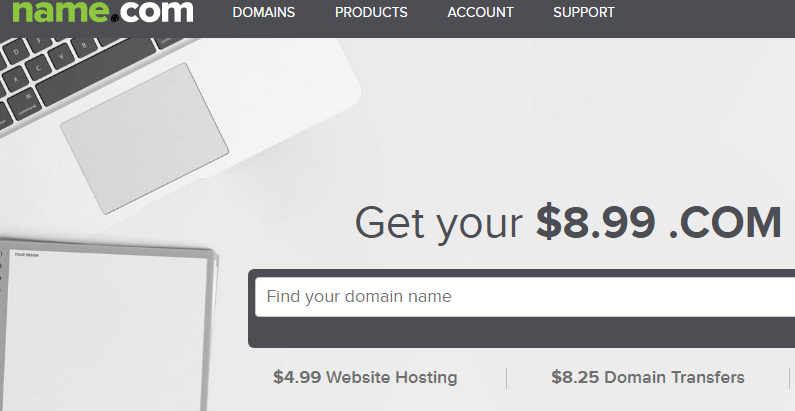 Name.com was started by William Mushkin in 2003. William Mushkin are the founder and former president of Mushkin Inc. But now it is owned by Right side Group and situated in Denver CO.
This company has acquired 320,000 customers and managed approx 145 million domain names.
Further, it is the best domain hosting company offer almost all domain names like .co, .live, .org, .net, .site, .shop, etc. at a very cheap price. To manage domains, DNS records, email forwarding, and more, they have a fully RESTful API ideal.
The company comes with secured web hosting with 99.9% uptime. They secure your website with an SSL certificate, additionally, the website builder allows you to customize templates for a professional website.
Apart from that, name.com has domain transfer, app integration, email, and some web hosting options. The best thing is when you purchase a WordPress hosting or any other hosting plans so they provide you a free domain name.
Name.com has three hosting plan; startup hosting plan which supports only one site, name builder plan that supports 25 websites, and the last one is an unbelievable package that supports unlimited websites.
They also provide outstanding support via phone from 8 am to 6 pm, live chat from 10 am to 5 pm, and email ticketing. They include a knowledge base and site contact form through which you will submit an email ticket.
Key Features
Website Hosting
SSL certificate
Website builder
G Suite
Site builder
SiteLock
Branded URL shortener
One-page website
Pricing
.com extension costs $9.99/year, .host site $109.99/year. Further, they also provide WHOIS privacy with an additional charge of $4.99/year, but not for all domain extension.
10. BuyDomains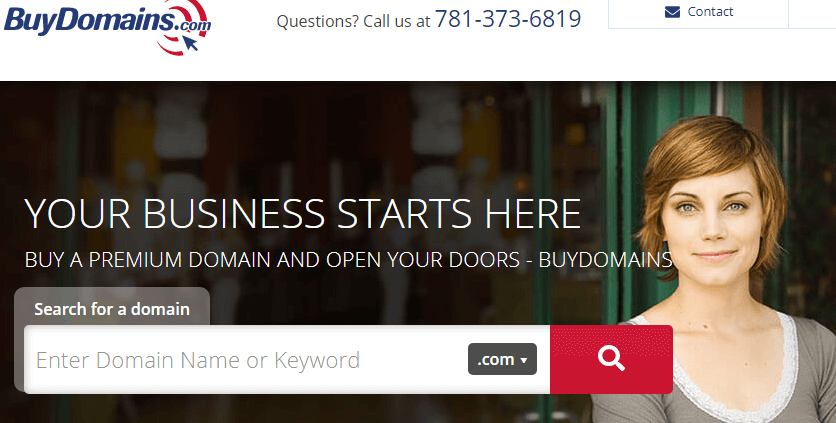 BuyDomains was started in 1999 by Mike Mann. Since 1999 it has acquired over 1.5 million domain names including its own more than 800,000 domain names.
It is also one of the cheapest domain name providers available in the market. It helps you to search your preferred domain name, if it is not available, then it also gives you suggestions with some relevant domain names.
Especially, it helps you to search premium domain names related to your search terms. Now you have confusion regarding premium domain names. Basically premium domain names are the domains that have already been registered but still available for the sale via the third-party.
However, these domains are more beneficial for a businessman because the are memorable, shorter, brandable, and more trustworthy in Google sigh, that's why they are expensive than a new domain.
Hence, you can go for a premium domain name by using BuyDomains if you have the budget.
Key Features
Fast & reliable
24/7 supports
Premium domain names
All domain extensions
11. InMotion Hosting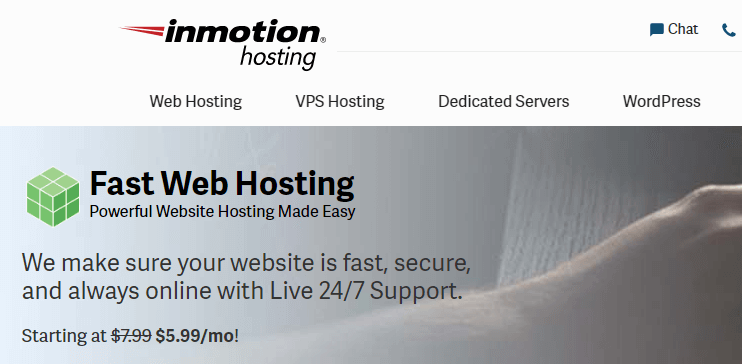 The company InMotion Hosting is based on Los Angeles, CA. It basically started in 2001 now owns a data center located in Ashburn, VA.
InMotion hosting is also known as web hosting powerhouse because it owns Web Hosting Hub – a host created company that provides hosting services with fast servers and great uptime for beginners and bloggers. Also, since 2001 it has own 300,000 domains.
Being the best web hosting and domain registration provider, it offers all TLDs – top-level domains ans various hosting options such as VPS reseller, shared business, and WordPress hosting.
Apart from that, it also provides web design services and enterprise hosting solutions. Their experts are always with you through email, live chat, Skype, and phone support.
The best thing is that you will get a free domain name by purchasing its some plans like shared business hosting plan. Further, the automatic domain renewal process comes with its every plan.
Key Features
Fast & reliable
#1 in transfer
Easy to setup
Secure servers
A+ rating
Fast web hosting
Industry guarantee
Website creator
Business hosting
VPS hosting
Dedicated servers
WordPress hosting
Ultimate support
16 years CNET certified
Pricing
.com, .net, .biz, .org, .info, .us extensions costs $14.99/year.
12. Register.com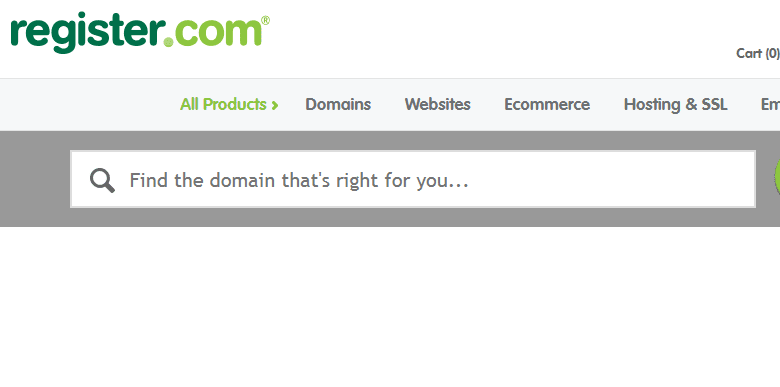 The company was basically founded in the year 1994 by Peter Forman. Formerly it was known as Forman Interactive Corp which provides Website creation software. But the joining of Richard Forman and Dan Levine the company gradually started to move towards the hosting services.
In the year 1999, the company changed its old name and from that day onwards it is officially been called Register.com.
The company has its branches in the US, Canada, and the UK. More than 400 people work at different levels at register.com. Main headquarters of this company is situated in New York, NY. The company is basically owned by a web development company Web.com Group Inc. which is an American origin company. Register.com currently handled over 2.5 million different domain names at present.
It is the best domain service provider provides the domain name at a very cheap and effective cost. It can be a good choice to start an online business. Apart from that, the company comes with a lot of advanced features. Also, it provides customer support to the users to solve their problems.
Key Features
Includes domain transfers
Website and eCommerce builder
Hosting services are available
Provides SSL certificate
Offered Email services
SEO optimised
Support pay-per-click(PPC)
Facebook Boost
Featured Customer support options
Pricing
The price for getting a domain name extension with register.com is $5per month. All the sites whether it ends with .net, .org, .biz, .info, and us have the same price i.e. $5 per month. The prices are very cheap and effective as compared to other domain registrars like Yahoo or GoDaddy.
WHOIS privacy protection is an additional feature that is available with Register.com whose cost is $11per year. This features will help you to keep your website data encapsulated so nobody can steal your data very easily.
Which one you should choose – Domain providers comparison
Choosing the best domain provider and registrar is depends on your business requirements. But still, it is very difficult to decide a perfect one because there are thousands of domain registrars available in the market which provides these facilities.
In this article we have not included various companies like Tucows, 1&1 Ionos, NetWork Solution, etc. just explained some of the best that provides domain services at a very cheap and effective price. So, it becomes very easy for you to choose the best and most secure domain registrar without any hectic.
In our opinion, Namecheap is one of the best domain registrars in the market. It is a perfect solution for small as well as large businesses. The pricing of namecheap is also very affordable as compared to other domain registrars.
If you are planning to build a website, then you can also get a free domain name from Bluehost and HostGator but for this you will have to opt for the hosting services. These both also good solution to start a business.
To get rid of confusion read the article, We ensure that the information given in this article will help you to choose the best domain registrar for your business.